Visualisasi Kasih Sayang Ibu dalam Adegan Film Folklore: A Mother's Love
Keywords:
Camera Movement, Kasih Sayang Ibu, Level Angle, Size, Visualisasi
Abstract
Ketertarikan terhadap film Folklore: A Mother's Love yang menghadirkan cerita tentang perjalanan hidup seorang ibu tunggal yang hidup bersama anaknya yang tinggal di kota metropolitan yang berisi pesan dan pembelajaran yang layak untuk diteliti dan dapat bermanfaat sebagai bentuk edukasi bagi seluruh masyarakat. Penelitian ini bertujuan untuk mendeskripsikan visualisasi kasih sayang seorang ibu dalam film Folklore melalui unsur sinematik dan dramatik. Metode yang digunakan adalah kualitatif dengan data diperoleh melalui obervasi mendalam pada sekuen film sejumlah lima belas. Semua sekuen tersebut menyusun film Folklore: A Mother's Love dari awal hingga akhir. Hasil penelitian menunjukkan adanya unsur dramatik dan sinematik diwujudkan melalui teknik pengambilan gambar yang terdiri dari ukuran gambar, sudut pengambilan gambar dan gerakan kamera. Pendekatan teknik pengambilan gambar dalam penelitian ini menunjukkan dominasi penggunaan ukuran gambar, sudut pengambilan gambar, dan gerakan kamera dalam memvisualisasikan kasih sayang ibu pada adegan-adegan dengan unsur sinematik seperti long shot dan medium long shot. Sudut pengambilan gambar didominasi eye level, Pergerakan gambar didominasi still. Unsur dramatik kasih sayang ibu yang disajikan dalam adegan-adegan digambarkan melalui kondisi sosial dan ekonomi kehidupan seorang ibu yang hidup di kota metropolitan Jakarta yang keras. Karakter Murni sebagai seorang ibu tunggal dengan visual seorang ibu yang sayang pada anaknya.
References
A. Sudirman Abbas, Mukjizat Doa & Air Mata Ibu. QultumMedia, 2009.
H. Alwi, Kamus Besar Bahasa Indonesia. Jakarta: Balai Pustaka, 2007.
A. Asa Berger, Media and Communication Research Methods An Introduction to Qualitative and Quantitative Approaches. Sage Publications, 2018.
H. Pratista, Memahami Film (Edisi 2). Montase Press, 2017.
R. Rasyid Winarko, "Makna Kasih Sayang Ayah dalam Film Keluarga Cemara," Sahafa Journal of Islamic Communication, vol. 2, no. 2, hlm. 125–136, Mei 2020.
D. Noercahyo, I. Maulana, dan A. Arryadianta, "Sebuah Karya Film Pendek 'Kasih Sayang,'" Inter Community: Journal of Communication Empowerment, vol. 1, no. 1, hlm. 29–43, Des 2019.
P. Wibisono dan Y. Sari, "Analisis Semiotika Roland Barthes Dalam Film Bintang Ketjil Karya Wim Umboh Dan Misbach Yusa Bira," Jurnal Dinamika Ilmu Komunikasi, vol. 7, no. 1, hlm. 30–43, Apr 2021.
M. Yusa Biran, Teknik Menulis Skenario Film Cerita. Jakarta : Pustaka Jaya, 2006.
S. Khan, R. Paath, dan V. Roty, "Analisis Nilai Moral Dalam Film "Dua Garis Biru," Jurnal Ilmiah Bahasa dan Seni, vol. 1, no. 9, hlm. 780–785, Des 2021.
D. Manesah, "Representasi Perjuangan Hidup dalam Film 'Anak Sasada' Sutradara Ponty Gea," PROPORSI: Jurnal Desain, Multimedia dan Industri Kreatif, vol. 1, no. 2, hlm. 179–189, Mei 2016.
J. W. Creswell, Research Design : Qualitative, Quantitative, and Mixed Methods Approaches (Third Edition). USA : SAGE Publications Inc, 2009.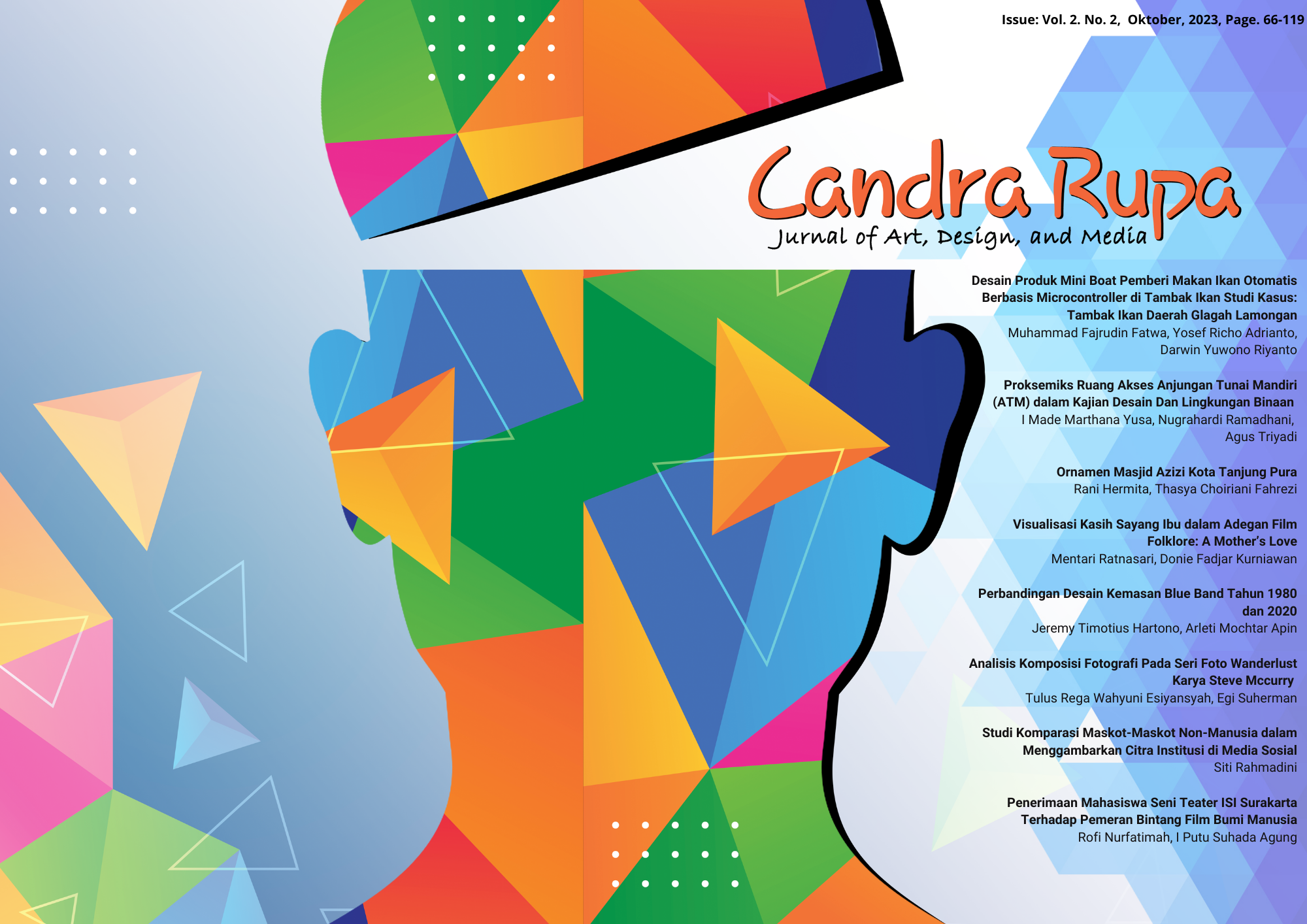 Downloads