Perbandingan Desain Kemasan Blue Band Tahun 1980 Dan 2020
Keywords:
Blue Band, Kemasan, Tahun 1980 dan 2020
Abstract
Blue Band adalah produk margarin yang berasal dari Belanda, yang sudah dikenal sejak tahun 1934. Produk margarin Blue Band sudah dipasarkan ke 65 negara di dunia. Sebelumnya desain kemasan Blue Band disesuaikan dengan negara asal Belanda, tetapi dengan seiring berjalannya waktu desain kemasan sudah disesuaikan dengan negara yang memproduksi margarin tersebut. Perkembangan zaman dan daya tarik dapat mempengaruhi perubahan kemasan Blue Band. Dengan begitu penelitian ini selain menemukan perkembangan dan perubahan yang terjadi dengan kemasan pada tahun 1980 dan 2020, tetapi juga untuk menentukan bagaimana perubahan desain kemasan dapat dikaitkan dengan perkembangan zaman.
References
B. Musriha, M., Rosyafah, S., & Rianto, "Developing Brand Image For Food And Beverage Products With The Application Of Packaging Design In The Era Of Industrial Revolution 4.0 In Sidoarjo," IOSR J. Bus. Manag., vol. 22, no. 11, pp. 52–59, 2020.
Z. Ahmad, Tipografi. Semarang: Yayasan Prima Agus Teknik, 2021.
E. H. Parassih, E. K., & Susanto, "Pengaruh Visual Packaging Design (Warna, Bentuk, Ukuran) dan Packaging Labeling (Komposisi, Informasi Nilai Gizi, Klaim) terhadap Purchase Intentions Produk Makanan dan Minuman dalam Kemasan di Jakarta," J. Manaj. Bisnis Dan Kewirausahaan, vol. 5, no. 1, pp. 66–71, 2021.
R. Erlyana, Y., & Ressiani, "Perancangan Buku Desain Kemasan" Basic Of Packaging," ANDHARUPA J. Desain Komun. Vis. Multimed., vol. 6, no. 2, pp. 160–172, 2020.
S. A. Wantoro, I. Kurniawan, "Perbandingan Visual Foto Pada Kemasan Indomie Varian Mi Goreng Tahun 2006 dan 2010," Vis. Online J. Desain Komun. Vis., vol. 10, no. 1, pp. 1–11, 2021.
G. E. Tőkés, "The Digital Brand Identity of Fast-Fashion Brand Zara," Sapientia Hungarian Univ. Transylvania, Cluj-Napoca, Rom., pp. 131–154, 2022.
Y. B. R. Suntoro, W., & Silintowe, "Analisis pengaruh pengalaman merek, kepercayaan merek, dan kepuasan merek terhadap loyalitas merek," Modus, vol. 32, no. 1, pp. 25–41, 2020.
A. D. Lestari, "Pengaruh Daya Tarik Iklan Go-Pay Melalui Media Sosial Instagram Terhadap Minat Beli Pengikut Akun Instagram@ Gopayindonesia," Universitas Atma Jaya Yogyakarta, 2020.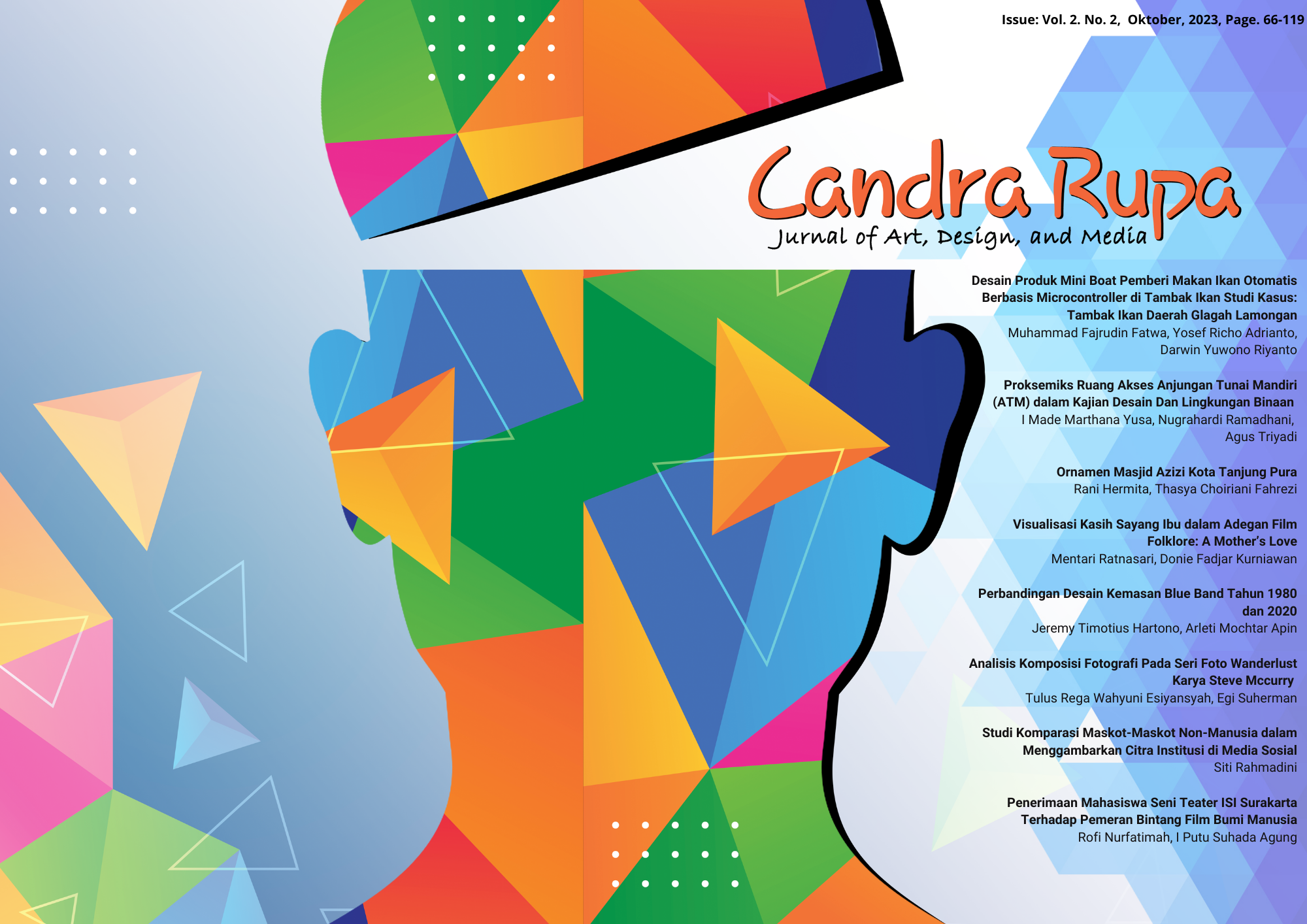 Downloads