Analisis Komposisi Fotografi Pada Seri Foto Wanderlust Karya Steve Mccurry
Keywords:
Fotografi, Komposisi, Steve McCurry, Wanderlust
Abstract
Penelitian ini bertujuan untuk menganalisis komposisi dan pesan apa yang disampaikan dalam foto. Peneliti mengambil contoh karya untuk dianalisa yaitu foto seri Wanderlust karya Steve Mccurry. Penelitian ini menggunakan metode penelitian deskriptif kualitatif. Dari hasil penelitian, data yang diperoleh pada karya foto seri Wanderlust karya Steve Mccurry yaitu, karya menggunakan dua format foto yaitu horizontal dan vertikal, menggunakan banyak komposisi fotografi, dan hanya satu yang sama dari beberapa karyanya yaitu menggunakan pencahayaan natural light atau cahaya alami yang langsung datang dari matahari namun dengan arah pencahayaan yang berbeda-beda. Dengan penerapan komposisi fotografi dan perpaduan cahaya memunculkan pesan yang ingin disampaikan fotografer yaitu sebuah perjalanan. Setiap orang memiliki perjalanan, modal untuk melakukan perjalanannya, latar belakang melakukan perjalanannya pun berbeda-beda.
References
A. Almira Rahma, "Keterlibatan Audiens Dalam Narasi Visual Video Musik Berbasis Virtual Reality," CandraRupa: Journal of Art, Design, and Media, vol. 2, no. 1, Mar. 2023.
W.-K. Chen, "Linear Networks and Systems: Algorithms and Computer-Aided Implementations (Advanced Series in Electrical and Computer Engineering," 2nd edition., Belmont: World Scientific Pub Co Inc, 1990.
Y. Erlyana and D. Setiawan, "Analisis Komposisi Fotografi Pada Foto Editorial 'Elephants' Karya Steve Mccurry," Titik Imaji, vol. 2, no. 2, 2019.
Sugiyono, "Metode penelitian kuantitatif, kualitatif, dan R&D," Cetakan Ke-3., Bandung: Alfabeta, 2021.
Sugiyono, "Statistika untuk Penelitian," Bandung: Alfabeta, 2010.
I. Resmika Andelina and S. Theresia, "Pengembangan Desain Karakter Cookies Pada Gim Cookie Run Kingdom," CandraRupa: Journal of Art, Design, and Media, vol. 2, no. 1, pp. 29–38, Mar. 2023.
M. Langford, "The Book of Special Effects Photography," First Edition., New York: Ebury Press, 1981.
S. Setya Kusuma, "Analisis Arah Cahaya Dalam Studio Fotografi," IMAJI: Film, Fotografi, Televisi, & Media Baru, vol. 13, no. 2, Jul. 2022.
T. Setiadi, "Dasar fotografi: cara cepet memahami fotografi ," Cet. 1., Yogyakarta: Penerbit Andi, 2017.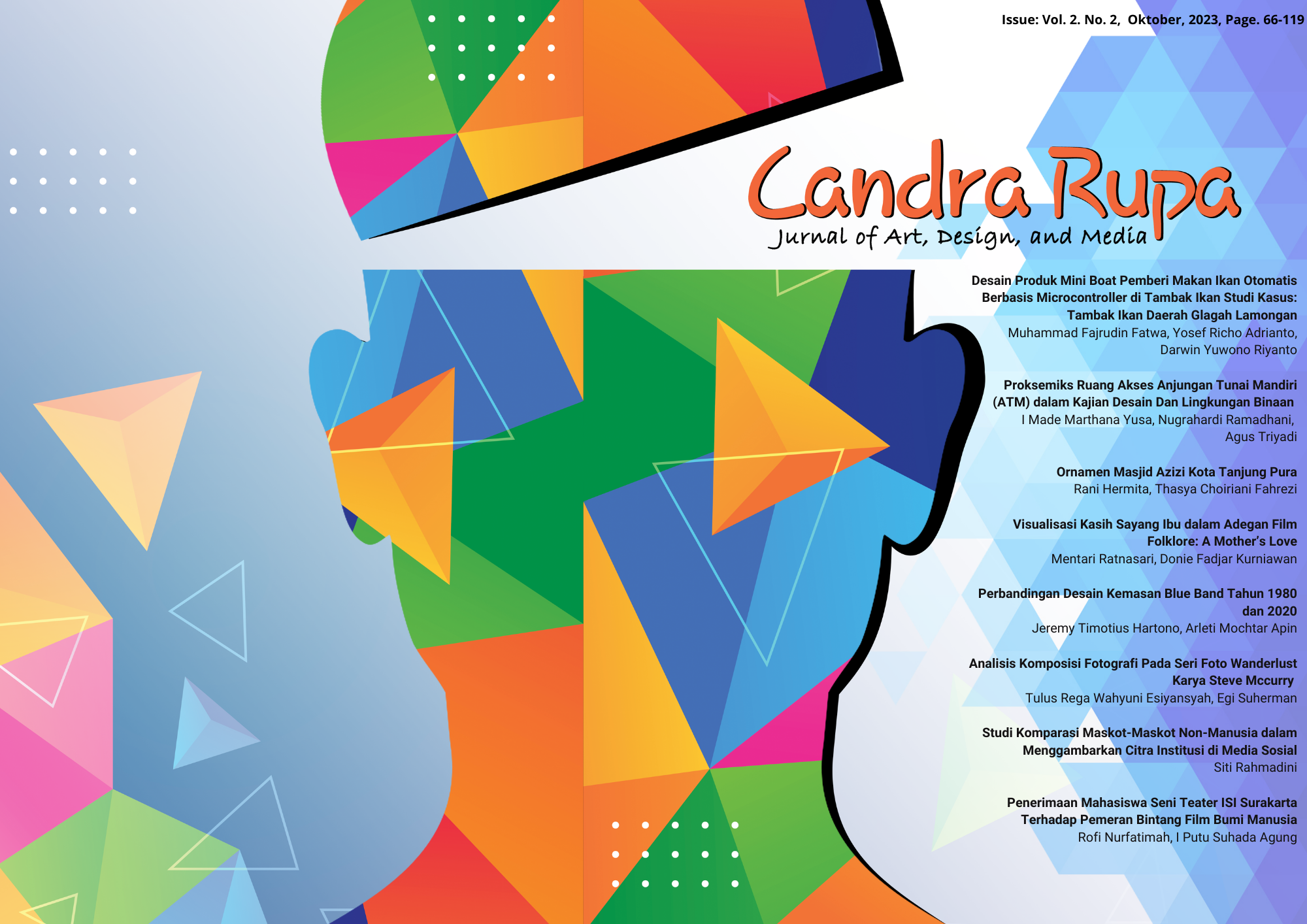 Downloads