Studi Komparasi Maskot-Maskot Non-Manusia dalam Menggambarkan Citra Institusi di Media Sosial
Keywords:
Aktivasi Brand, Citra Institusi, Kesadaran Brand, Maskot, Media Sosial
Abstract
Maskot adalah segala bentuk manusia, binatang atau obyek yang kiranya akan membawa keberuntungan, atau untuk mewakili sebuah grup dengan identitas yang cukup umum seperti sekolah, tim olahraga, perkumpulan, unit militer atau nama merek. Berdasarkan ini, maskot juga dapat diterapkan untuk institusi agar audiens atau publik dapat menerima citra insititusi tersebut dengan mudah dan efektif ke masyarakat luas. Untuk mengetahui maskot seperti apa yang efektif untuk menyampaikan citra institusi, peneliti akan melakukan studi komparasi tiga maskot institusi Indonesia dengan metode deskriptif kualitatif dengan pendekatan teori persepsi visual Gibson agar bisa mengetahui bentuk seperti apa yang biasa diadaptasi untuk mewakili institusi Indonesia dan apa cukup cocok dengan konsep yang dibuat oleh institusi tersebut, di media sosial mana saja maskot ini diinformasikan (aktivasi brand) serta bagaimana interaksinya dengan publik. Dari penelitian ini, ditemukan bahwa presensi maskot di media sosial cukup membantu untuk mengenalkan keberadaan institusi di publik (kesadaran brand). Akan tetapi, konten dari media sosial dan juga interaksinya dengan pengguna media sosial masih berperan lebih besar untuk pembentukan citra institusi di mata publik.
References
P. Kotler and K. L. Keller, Marketing Management (14th Global Ed.), New Jersey: Pearson, 2012.
M. Neumeier, The brand gap: Revised edition, San Fransisco: Peachpit press, 2005.
P. Weszka, "FIFA World Cup Brand Elements and Local Inspirations," Sports Marketing Quarterly, vol. 20, no. 3, pp. 174-184, 2011.
P. Arunrangsiwed, "Be Like Me & Follow Me: A Relationship between Homophily and Belief of Superheroes' Fans," Journal of Communication Arts Review(นิเทศศาสตรปริทัศน์), vol. 18, no. 2, pp. 35-50, 2015.
E. Delgado-Ballester, M. Palazón and J. Pelaez-Muñoz, "This anthropomorphised brand is so loveable: The role of self-brand integration.," Spanish Journal of Marketing-ESIC, vol. 21, no. 2, pp. 89-101, 2017.
K. Caufield, "Analyzing the effects of brand mascots on social media: Johnson City Power Board case study," East Tennessee State University, Johnson City, 2012.
S. Brown, "Where the wild brands are: some thoughts on anthropomorphic marketing,," The Marketing Review, vol. Vol. 10, no. 3, p. 209–224, 2013.
P. M. Connel, "Consumer Response to Anthropomorphic Animal Images Based on Their Similarity to Humans," in European Advances in Consumer Research Conference, London, 2010.
F. M. A. E. S. Hadeel, "Sports Logo As a Marketing enhancement tool of Printed Sports Wear," International Design Journal, vol. 6, no. 1, pp. 103-112, 2016.
O. Otubanjo and A. Oluwatobi, "The Corporate Heritage Brand Development Process: A New Institutional Theory Approach," Journal of Brand Management, vol. 16, 2019.
I. Pairoa and P. Arunrangsiwed, "The effect of brand mascots on consumers' purchasing behaviors.," International Journal of Economics and Management Engineering, vol. 10, no. 5, pp. 1702-1705, 2016.
K. Osei-Frimpong and G. McLean, "Examining online social brand engagement: A social presence theory perspective.," Technological Forecasting and Social Change, vol. 128, pp. 10-21, 2018.
I. I. Fahmy, "Prestasi Belajar Siswa Homeschooling dan Sekolah Formal Jenjang SMP dalam Mata Pelajaran Bahasa Indoensia: Studi Deskriptif pada Homeschooling Kak Seto Bandung dan SMP Negeri 5," Universitas Pendidikan Indonesia, Bandung, 2013.
J. J. Gibson, The Ecological Approach to Visual Perception: Classic Edition (Psychology Press & Routledge Classic Editions), London: Psychology Press, 1979.
Alfina, M. M. Khoirina and T. A. Nastiti, "Pelatihan Digital Marketing bagi Entrepreneur Di Kota Gresik," Jurnal Abdidas, vol. 1, no. 6, pp. 797-804, 2020.
Bina Nusantara University, "Undergraduate Program - BINUSIAN Mascot," Bina Nusantara, 2023. [Online]. Available: https://curriculum.binus.ac.id/reguler/7/. [Accessed 25 July 2023].
Universitas Brawijaya, "Coat of Arms, Logo, Motto, and Mascot," Universitas Brawijaya, [Online]. Available: https://ub.ac.id/about/ub-brand/. [Accessed 26 July 2023].
Nida, "Mengenal Lebih Dekat Maskot UM : Cakrawala," Universitas Malang, 24 February 2020. [Online]. Available: http://komunikasi.um.ac.id/2020/02/mengenal-lebih-dekat-maskot-um-cakrawala/. [Accessed 26 July 2023].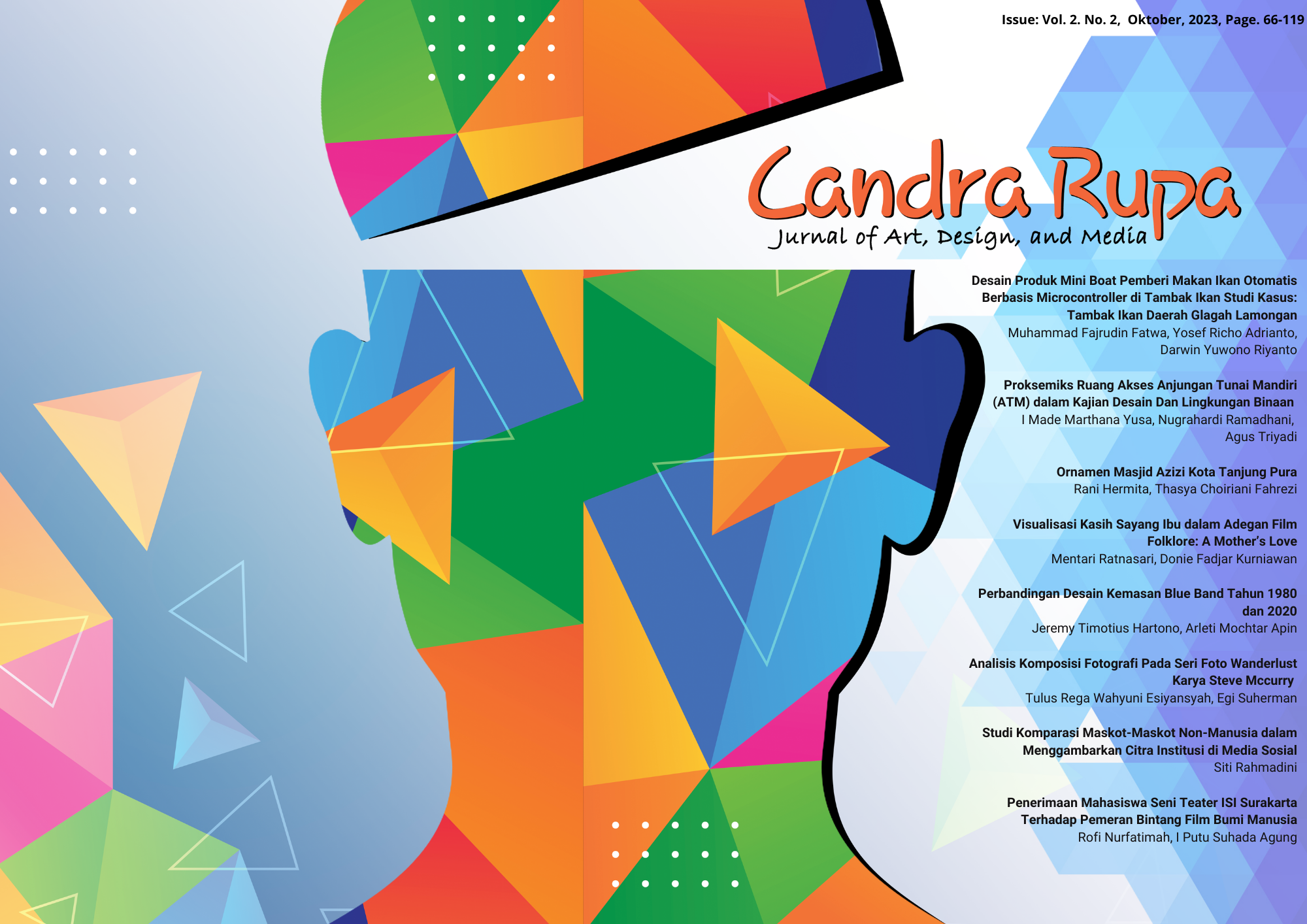 Downloads