Pengujian Penetrasi pada Windows 10 menggunakan Model Penetration Testing Execution Standard (PTES)
Keywords:
Bug, Vulnerability, Penetration Testing Execution Standard, Windows 10
Abstract
Windows 10 adalah sistem operasi yang digunakan oleh banyak orang, organisasi dan perusahaan. Windows 10 sendiri memiliki bug (kerentanan) saat pertama kali diinstal oleh pengguna. Bug (kerentanan) ini dapat mengganggu proses yang ada, beberapa pengaturan tidak berfungsi sebagaimana mestinya kemudian jika bug (kerentanan) digunakan untuk sesuatu yang tidak legal, juga dapat menyebabkan data tidak dapat diakses (ransomware), menghapus data pengguna hingga merusak sistem Windows 10 itu sendiri. Solusinya adalah dengan melakukan pengujian penetrasi pada sistem operasi Windows 10 dan menemukan bug (kerentanan) sesuai dengan metode yang digunakan yaitu model Penetration Testing Execution Standard (PTES), menggunakan tools yang sesuai tahapan pada model Penetration Testing Execution Standard (PTES). Hasil pengujian penetrasi menggunakan model Penetration Testing Execution Standard (PTES) menunjukkan bahwa dengan tools yang tepat, peneliti dapat mencari bug (kerentanan) yang ada pada sistem Windows 10 dan menambalnya.
Downloads
Download data is not yet available.
References
Astuti, E. F., & Sari, P. K. (2019). Analisis Budaya Keamanan Informasi di Klinik Pratama Kota Bandung. Jurnal Mitra Manajemen (JMM Online), 3, 316-317.
Asy'ari, M. F., Budiyono, A., & Widjajarto, A. (2019). Analisa Parameter Ethereum Pada Jaringan Peer To Peer Blockchain Di Aplikasi Transfer Koin Terhadap Aspek Processor. e-Proceeding of Engineering, 7648.
Choi, S.-K., Yang, C.-H., & Kwak, J. (2018). System Hardening and Security Monitoring for IoT Devices to Mitigate IoT Security Vulnerabilities and Threats. KSII TRANSACTIONS ON INTERNET AND INFORMATION SYSTEMS, 906-918.
PCI Security Standards Council. (2015). Penetration Testing Guidance. Retrieved from Penetration Testing Guidance: https://www.pcisecuritystandards.org
Stiawan, D., Idris, M. Y., Abdullah, A. H., AlQurashi, M., & Budiarto, R. (2016). Penetration Testing and Mitigation of Vulnerabilities Windows Server. International Journal of Network Security, Vol 18, No.3, 501-513.
Wulandari, R. (2016). Analisis QoS (Quality of Service) pada Jaringan Internet (Studi Kasus: UPT Loka Uji Teknik Penambangan Jampang Kulon - LIPI). Jurnal Teknik Informatika dan Sistem Informasi, 2, 164-165.
.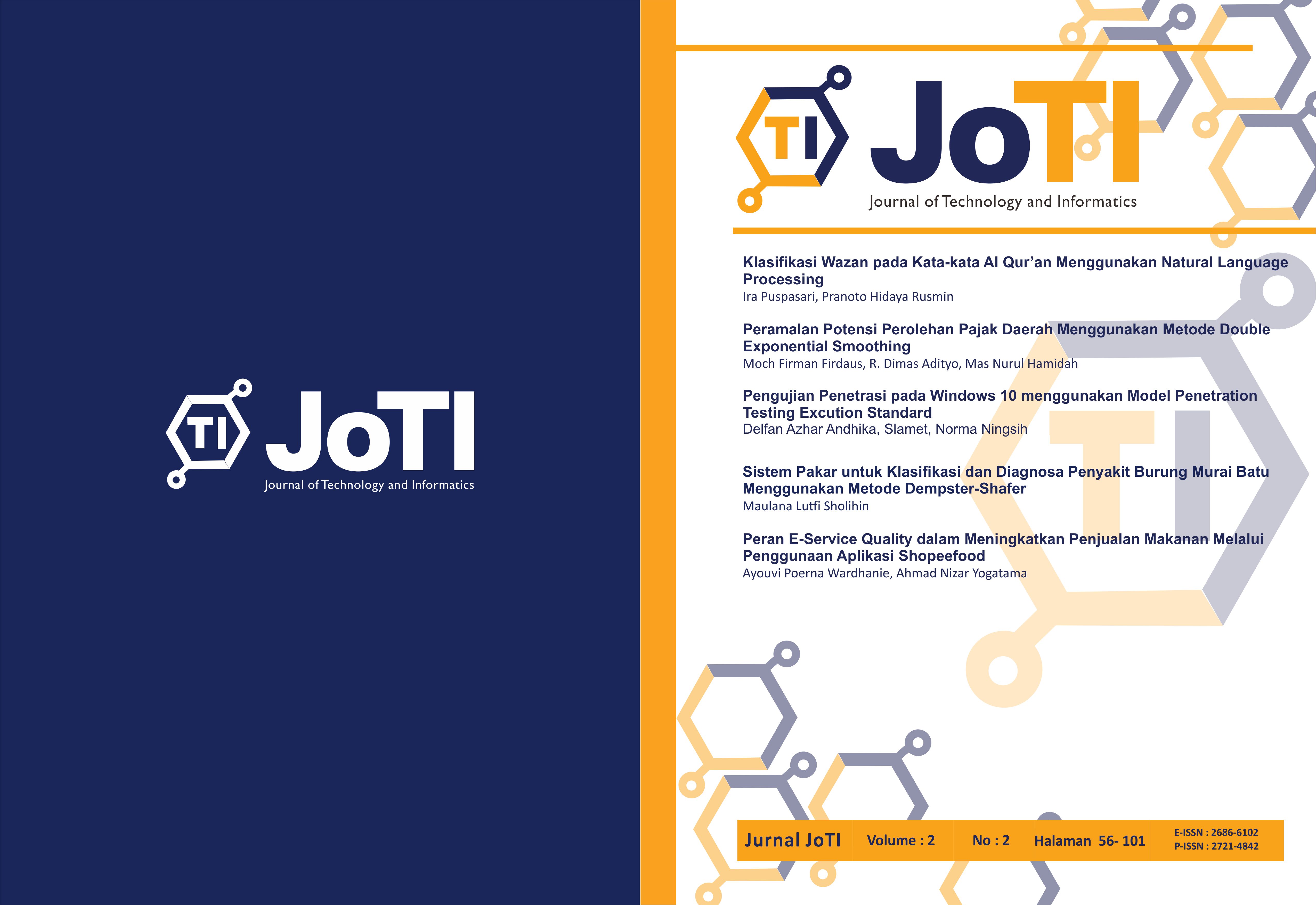 Downloads