Perancangan Basis Data Perpustakaan Universitas Menggunakan MySQL dengan Physical Data Model dan Entity Relationship Diagram
Keywords:
ERD, MySQL, PDM, Perancangan Basis Data, Perpustakaan Universitas
Abstract
Perpustakaan merupakan sebuah tempat atau wadah yang dapat berfungsi untuk mengumpulkan dan menawarkan berbagai macam hal pengetahuan yang berbentuk cetak atau rekam. Berkembangnya teknologi saat ini yang begitu pesat dapat memberikan kemudahan sarana informasi maupun komunikasi sangat mempengaruhi terhadap kelancaran aktivitas bisnis yang membantu dalam pengambilan keputusan untuk penyimpanan data yang didukung oleh database atau basis data. Tujuan dari penelitian ini adalah untuk merancang dan membangun Basis Data Perpustakaan di Universitas yang memudahkan dalam pengelolaan data dengan menggunakan Physical Data Model dan Entity Relationship Diagram. Metode yang digunakan dalam penelitian ini mengadopsi metode Waterfall. Hasil dari perancangan dan pembuatan desain basis data perpustakaan Universitas memungkinkan untuk menyimpan data atau membuat dan melihat perubahan serta mengambil informasi dengan cepat dan mudah.
Downloads
Download data is not yet available.
References
A. Dahlan Et Al., "Perancangan Data Warehouse Perpustakaan Perguruan Tinggi Xyz Menggunakan Metode Snowflake Schema," Jurnal Teknologi Informasi, Vol. 24, 2013.
Gat. G, "Perancangan Basis Data Perputakaan Sekolah Dengan Menerapkan Model Data Relasional".
A. M. Lukman, "Pengembangan Sistem Informasi Perpustakaan Umum Berbasis Web Menggunakan Inlislite 3.0 Di Kab. Enrekang," Ilkom Jurnal Ilmiah, Vol. 9, 2017.
I. R. Mukhlis, "Sistem Informasi Donor Darah Berbasis Website Menggunakan Framework CodeIgniter Pada Unit Transfusi Darah (UTD) Palang Merah Indonesia Lumajang," 2022. [Online]. Available: http://jurnal.mdp.ac.id
E. M. Safitri, A. Pratama, M. A. Furqon, I. R. Mukhlis, Agussalim, and A. Faroqi, "Interaction effect of system, information and service quality on intention to use and user satisfaction," in Proceeding - 6th Information Technology International Seminar, ITIS 2020, Oct. 2020, pp. 92–97. doi: 10.1109/ITIS50118.2020.9321002.
Y. Fitriani, Y. Djamain, R. Dwi Kurniati, J. Teknik Informatika, And S. Tinggi Teknik Pln, "Perancangan E-Katalog Pada Perpustakaan Digital Stt-Pln Berbasis Web," 2016. [Online]. Available: Www.Library.Sttpln.Ac.Id.
A. Supriyadi, S. Andryana, And A. Gunaryati, "Perancangan Sistem Perpustakaan Berbasis Web," Jurnal Teknologi Informasi Dan Komunikasi), Vol. 6, No. 3, P. 2022, 2022, Doi: 10.35870/Jti.
M. Mailasari, "Sistem Informasi Perpustakaan Menggunakan Metode Waterfall," Jurnal Sisfokom (Sistem Informasi Dan Komputer), Vol. 8, No. 2, Pp. 207–214, Aug. 2019, Doi: 10.32736/Sisfokom.V8i2.657.
R. Prathesa, K. Iman Satoto, And A. Sofwan, "Aplikasi Basis Data Perpustakaan Jurusan Sosiologi Antropologi Universitas Negeri Semarang."
A. Prawata, "Penggunaan Fisikal Model… (Albertus Prawata) Penggunaan Fisikal Model Dalam Perancangan Arsitektur."
I. Ramadhani And M. Mujayana, "Brand Equity And Strategies To Win Business Competition," Journal Of Applied Management And Business (Jamb), Vol. 3, No. 1, Aug. 2022, Doi: 10.37802/Jamb.V3i1.245.
I. R. Mukhlis, "Literature Review Pada Teknik Pendeteksi Ambiguitas Leksikal dalam Software Requirements Specification," Jurnal Ilmu Komputer dan Desain Komunikasi Visual, vol. 7, no. 1, 2022.
W. T. Ningsih, Y. Yunus, and P. Radyuli, "Perancangan dan Pembuatan Sistem Informasi Perpustakaan Berbasis Web dengan PHP dan MySQL ( Studi Kasus SMK Negeri 7 Padang )," Jurnal Pendidikan Teknologi Informasi, vol. 7, no. 1, pp. 60–69, 2020.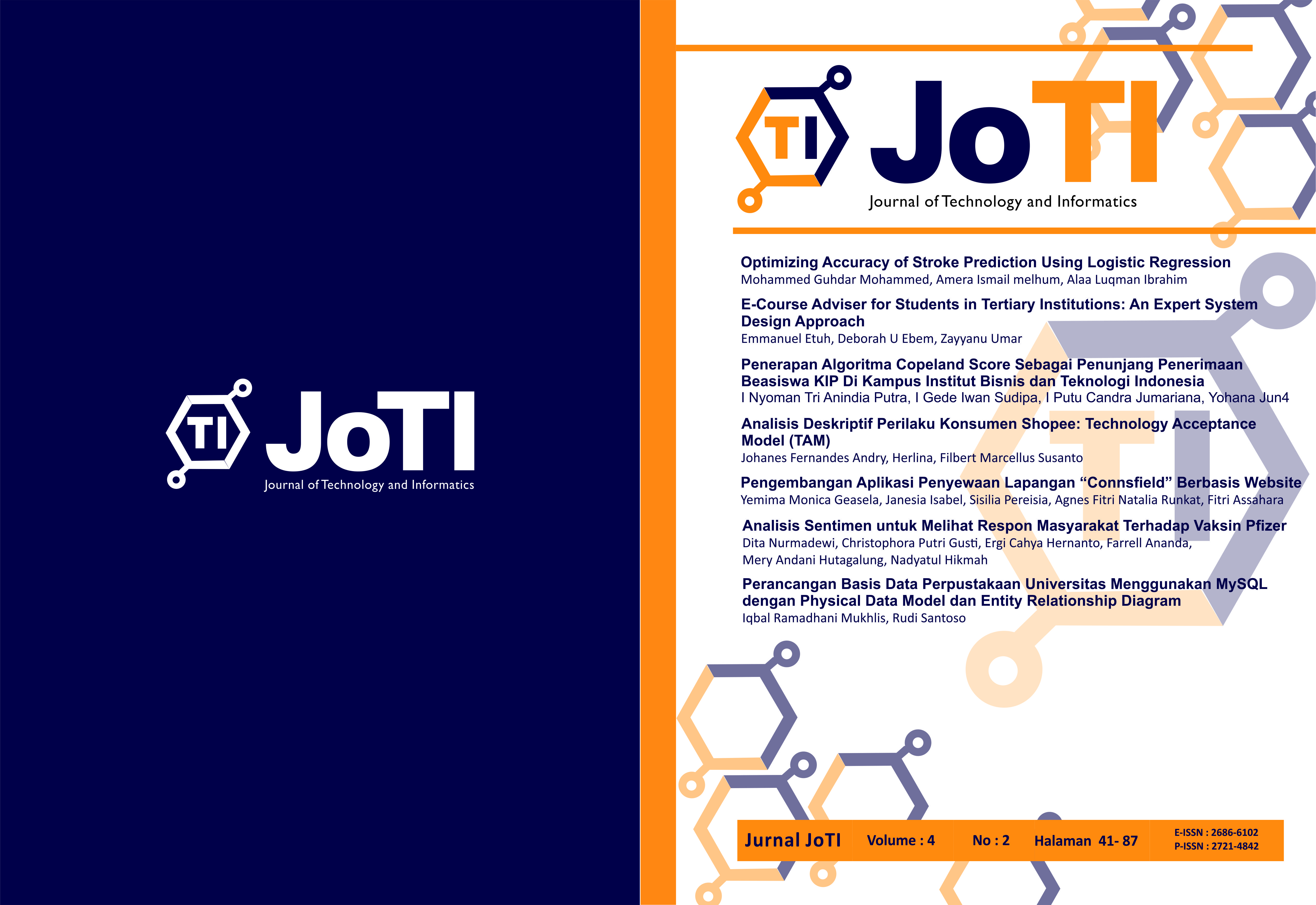 Downloads