The Effect of Customer Delight, Brand Image, and Product Innovation on The Purchase Decision of The Erigo Brand in The City of Surabaya
Keywords:
Brand Image, Customer Delight, Product Innovation, Purchase Decision
Abstract
This study aims to determine the effect of customer satisfaction, Brand image, and Product innovation on consumer Purchasing of Erigo brand products in Surabaya. This type of research is quantitative research. The population is all customers of the Erigo brand in Surabaya. The number of samples taken is 100 respondents who are taken incidentally. The sampling technique used is the prior probability sampling technique; this technique is randomization or coincidence. The data collection method used is a survey with a questionnaire instrument that is using a questionnaire. The result of this study shows that customer delight; in the brand image has a significant effect on purchasing decisions but not on product innovation which is not significant for purchasing decisions for the Erigo brand in the city of Surabaya. Meanwhile, simultaneously, Customer delight, brand image, and product innovation influence purchasing decisions for the Erigo brand in Surabaya.
Downloads
Download data is not yet available.
References
M. Candraningrat, Januar Wibowo ; Erstiawan, "Efektivitas Strategi Pemasaran Dan Manajemen Keuangan Pada UMKM Roti," DIKEMAS, vol. 5, no. 1, 2021, [Online]. Available: https://doi.org/10.32486/jd.v5i1.574
et al Dita Amanah, "Merek dan Customer Delight terhadap Loyalitas Pelanggan (Studi Empiris pada Amanda Brownies Setiabudhi Bandung)," J. Pemasar. Kompetitif, vol. 5, no. 1, 2021.
Sumiati dan Siti Mujanah, "Persepsi Kualitas Produk, Persepsi Harga dan Promosi Terhadap Keputusan Pembelian Tas Sophie Paris pada Mahasiswa," AMAR Andalas Manag. Rev., vol. 2, no. 2, pp. 1–10, 2018.
A. . R. R. A. . & C. C. Chusnaini, "The Effect Of Endorser Credibility, Toward Advertisement Attitude, Toward Brand Attitude And Brand Credibility On Purchase Intention Of Smartfren Card Products," JMM17 J. Manaj. Indones., vol. 8, no. 2, pp. 149–160, 2021.
P. . & K. K. L. Kotler, Marketing Management, 15th ed. Harlow: Pearson Education Limited, 2016.
A. . R. R. A. . & C. C. Chusnaini, "Pengaruh Percieved Quality, Corporate Image, Perceived Value Yang Di Mediasi Oleh Customer Satisfaction Terhadap Brand Loyalty Pada Pengguna Smartphone Merek Iphone (Studi Kasus Pada Gen Z Di Surabaya)," Media Mahard., vol. 20, no. 2, pp. 264–275, 2022.
A. Santoso, R, Erstiawan MS Kusworo, "Inovasi Produk, Kreatifitas Iklan Dan Brand Trust Mendorong Keputusan Pembelian," J. Nusant. Apl. Manaj. Bisnis, vol. 5, no. 2, pp. 133–145, 2020.
Y. B. K. Kim Soon Hong, "Analysis of the Factors Affecting Customer Satisfaction and Customer Loyalty in a Family Restaurant Chain," J. Distrib. Sci., vol. 13, no. 5, pp. 103–111, 2015.
et al. Yu, W, "Organic food corporate image and customer co-developing behavior: The mediating role of consumer trust and purchase intention," J. Retail. Consum. Serv., vol. 59, 2021, doi: https://doi.org/10.1016/j.jretconser.2020.102377.
T. G. R. S. A. A. Ayu Mutiara Sari, "Pengaruh Customer Delight Terhadap Customer Loyalty Dengan Service Quality Sebagai Variabel Moderasi," E- J. Manaj., vol. 9, no. 1, 2020.
T. Józsa, "The antecedents of market orientation and its effect on customer satisfaction and service quality: The case of Hungarian municipal public service provisions.," Int. Rev. Public Nonprofit Mark., no. 14, pp. 391–407, 2017.
F. Handayani and A. B. dan V. Viktor, "Pengaruh Kualitas Produk Terhadap Brand Image Produk Roti Bread Talk Di Jakarta," Pengabdi. dan Kewirausahaan, vol. 4, no. 26, pp. 26–36, 2020.
P. . & A. G. Kotler, Principle of Marketing, 16th ed. North Carolina: Pearson Education Limited, 2016.
et al Fianto, Achmad Yanu Alif, "The Influence of Brand Image on Purchase Behaviour Through Brand Trust," Bus. Manag. Strateg., vol. 5, no. 2, pp. 58–79, 2014.
T. D. N. Sibagariang, Sem C H, "Pengaruh Brand Image dan Brand Trust terhadap Brand Loyalti apda PT. Bank Sinarmas," J. Winners, vol. 11, no. 2, pp. 118–129, 2010.
R. Panji Gita Priambudi dan Endang Setyowati, "Analisa Pengaruh Produk, Harga Dan Promosi Terhadap Keputusan Pembelian Kartu Seluler Simpati Pada Mahasiswa Fakultas Ekonomi Universitas 17 Agustus 1945 Surabaya," J. Ekon. Manaj., pp. 433–450, 2017.
Penny Rahmawaty, "Pengaruh Brand Image, Kualitas Produk, Harga Terhadap Keputusan Pembelian Konsumen Sari Roti," J. Ilmu Manaj., vol. 11, no. 2, Apr. 2014.
M. . C. C. . & M. S. Viodita, "Strategi Marketing Melalui Store Atmoesfer dan Media Sosial Di Rumah Batik Tresna Art. Lumbung Inovasi," J. Pengabdi. Kpd. Masy., vol. 7, no. 2, pp. 265–276, 2022.
B. S. Kotler, Philip dan Keller Kevin, Manajemen Pemasaran. 2009.
Sumarti E silaban. Elisabeth. Roslinda Sagala, "Pengaruh Promosi, Harga dan Inovasi Produk Terhadap keputusan Pembelian Pada Kentucky Fried Chicken (KFC) Simpang Mataram Medan," J. Ris. Akunt. dan Bisnis, vol. 6, no. 1, 2017.
S. . K. A. . & C. C. Mujanah, "The Effect of Human Capital, Social Capital, and Competency on Women Entrepreneur Success in Surabaya Indonesia," in In Proceedings of the 1st Asian Conference on Humanities, Industry, and Technology for Society, ACHITS , Jul. 2019.
G. . W. A. P. . & C. C. Irfandy, "Analysis and Design of 'Universitas Dinamika' Web Page Design in Creating Customer Experience and Buying Interest of New Students from Sidoarjo," J. Fak. Ekon. dan Bisnis Islam, vol. 7, no. 1, pp. 61–74, 2022.
Diah Ernawati, "Pengaruh Kualitas Produk, Inovasi Produk dan Promosi terhadap Keputusan Pembelian Produk Hi Jack Sandals Bandung," J. Wawasan Manajemen. , vol. 7, no. 1, 2018.
Auliannisa gifani. Syahputra, "Pengaruh Citra Merek Terhadapa Keputusan Pembelian Produk Smartphone Oppo Pada Mahasiswa Univeristas Telkom," J. Bisnis dan Iptek, vol. 10, no. 2, 2017.
Sugiyono, Metode Penelitian Bisnis. CV Syafnidawaty ; "DATA PRIMER" Universitas Raharja, 2017.
S. Rudi, "Inovasi Produk, Kreatifitas Iklan Dan Brand Trust Mendorong Keputusan Pembelian," J. Nusant. Apl. Manaj. Bisnis, vol. 5, no. 2, pp. 133–145, 2020.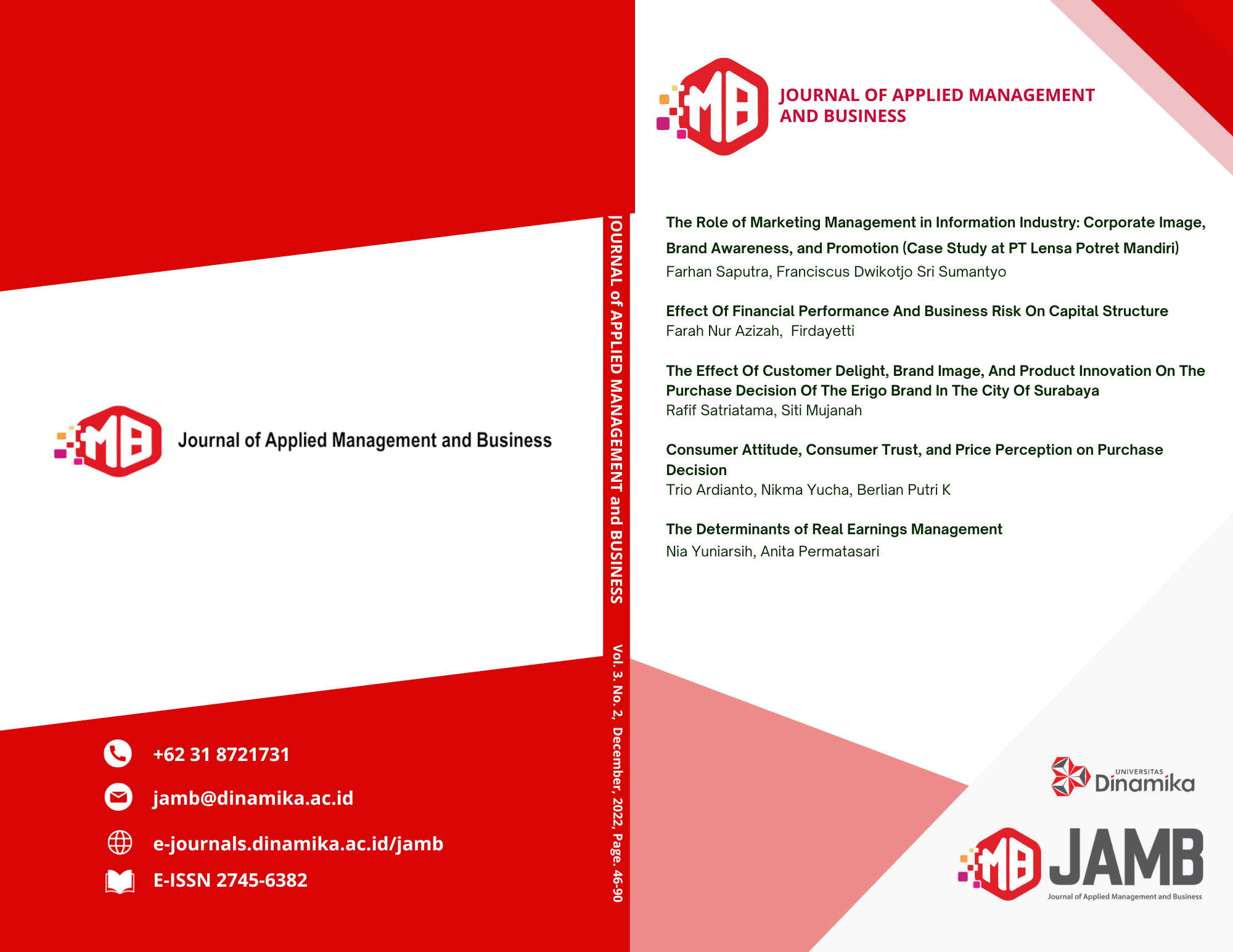 Downloads