BRAND EQUITY AND STRATEGIES TO WIN BUSINESS COMPETITION
Keywords:
Brand Equity, Business Competition, Customer Equity
Abstract
Business competition has become normal in the business world. Some business people try hard to win the competition. One of his efforts is to build brand strength. Brand strength in business is very important, because it can increase customer loyalty. Brand strength is also able to encourage customer confidence in the products produced. This can not be separated from the customer's perception of the brand reputation. Brands that have a good reputation will provide more revenue than ordinary brands. This study will describe the strength of the brand in winning the business competition. There are seven indicators used in establishing brand strength. The results of the study indicate the fact that building brand equity or strength can encourage customer loyalty and ultimately win the business competition.
Downloads
Download data is not yet available.
References
R. Santoso, "Disrupsi Pandemi dan Strategi Pemulihan Industri Kreatif," Jurnal Manajemen dan Kewirausahaan, vol. 7, no. 1, pp. 48–58, Jan. 2022, Accessed: Feb. 20, 2022. [Online]. Available: https://ejournal.uniska-kediri.ac.id/index.php/ManajemenKewirausahaan/article/view/2101/1453
K. L. Keller, Strategic Brand Management: Building, Measuring, and Managing Brand Equity, 4th Edition. New Jersey: Pearson, 2012.
A. Y. A. Fianto, "Antecedents of Customer Satisfaction for Small Medium Entreprises Product in Indonesia," International Journal of Civil Engineering and Technology, vol. 9, no. 11, 2018.
A. Marín-García, I. Gil-Saura, M. E. Ruiz-Molina, and G. Berenguer-Contrí, "Sustainability, store equity, and satisfaction: The moderating effect of gender in retailing," Sustainability (Switzerland), vol. 13, no. 2, 2021, doi: 10.3390/su13021010.
K. Lye and R. Santoso, "Digital Marketing of Serpong Urbantown Apartments to Increase Brand Awareness and Customer Satisfaction," Journal of Applied Management and Business (JAMB), vol. 2, no. 2, 2021, doi: 10.37802/jamb.v2i2.204.
R. Santoso and A. Y. A. Fianto, "Creative Industry and Economic Recovery Strategies from Pandemic Disruption," Jurnal Ilmu Ekonomi Terapan, vol. 7, no. 1, pp. 47–62, Jun. 2022.
R. Huang and E. Sarigöllü, "How brand awareness relates to market outcome, brand equity, and the marketing mix," Journal of Business Research, vol. 65, no. 1, 2012, doi: 10.1016/j.jbusres.2011.02.003.
D. Mkhitaryan, "Determinants of Brand Equity in Automobile Producing Companies in China," Journal of Business Administration Research, vol. 3, no. 1, 2014, doi: 10.5430/jbar.v3n1p38.
N. A. A. Rahman and S. M. Noor, "The role of brand self-relevance in developing brand loyalty: A study on the brand loyalty for honda," Jurnal Komunikasi: Malaysian Journal of Communication, vol. 30, no. 2, 2014, doi: 10.17576/jkmjc-2014-3002-06.
A. Gusti Noorlitaria, F. R. Pangestu, Fitriansyah, U. Surapati, and S. Mahsyar, "How does brand awareness affect purchase intention in mediation by perceived quality and brand loyalty?," Journal of Critical Reviews, vol. 7, no. 2. 2020. doi: 10.31838/jcr.07.02.20.
H. A. Mabkhot, Hasnizam, and S. M. Salleh, "The influence of brand image and brand personality on brand loyalty, mediating by brand trust: An empirical study," Jurnal Pengurusan, vol. 50, 2017.
M. Bustommy Maulana and O. Juwita, "Rancang Bangun Aplikasi Customer Relationship Management (CRM) Untuk Identifikasi Tingkat Kepuasan Pelanggan Pada Perusahaan PT. TIKI Jalur Nugraha Ekakurir (JNE) Agen Mastrip Jember Menggunakan Metode K-Means Clustering," Informatics Journal, vol. 2, no. 2, 2017.
Y. Nugroho and A. Prasetyo, "Assessing information systems success: A respecification of the DeLone and McLean model to integrating the perceived quality," Problems and Perspectives in Management, vol. 16, no. 1, pp. 348–360, 2018, doi: 10.21511/ppm.16(1).2018.34.
S. M. Dam and T. C. Dam, "Relationships between Service Quality, Brand Image, Customer Satisfaction, and Customer Loyalty," Journal of Asian Finance, Economics and Business, vol. 8, no. 3, 2021, doi: 10.13106/jafeb.2021.vol8.no3.0585.
S. Gierej, "Techniques for designing value propositions applicable to the concept of outcome-economy," Engineering Management in Production and Services, vol. 9, no. 1, pp. 56–63, 2017, doi: 10.1515/emj-2017-0006.
R. A. Raji, S. Mohd Rashid, S. Mohd Ishak, and B. Mohamad, "Do Firm-Created Contents on Social Media Enhance Brand Equity and Consumer Response Among Consumers of Automotive Brands?," Journal of Promotion Management, vol. 26, no. 1, 2020, doi: 10.1080/10496491.2019.1612490.
R. Chinomona and E. T. Maziriri, "The influence of brand awareness, brand association and product quality on brand loyalty and repurchase intention: A case of male consumers for cosmetic brands in South Africa," Journal of Business and Retail Management Research, vol. 12, no. 1, 2017, doi: 10.24052/jbrmr/v12is01/tiobabaapqoblariacomcfcbisa.
Tarigan, D. C. Widjaja, H. L. Egaputri, and J.-M. Dautrey, "A Study of Indonesia Original Brands Financial Performance," Indonesian Journal of Business and Entrepreneurship, Jan. 2020, doi: 10.17358/ijbe.6.1.12.
J. A. Orozco -Toro and C. Ferré-Pavia, "The Effects of Branding Intangibles on Corporate Reputation.," Revista de Comunicación, vol. 18, no. 1, pp. 111–134, 2019, doi: 10.26441/rc18.1-2019-a6.
A. R. Nofriyanti, "Pengaruh Brand Trust, Brand Image, Perceived Quality, Brand Loyalty Terhadap Brand Equity Pengguna Telkomsel," 2017.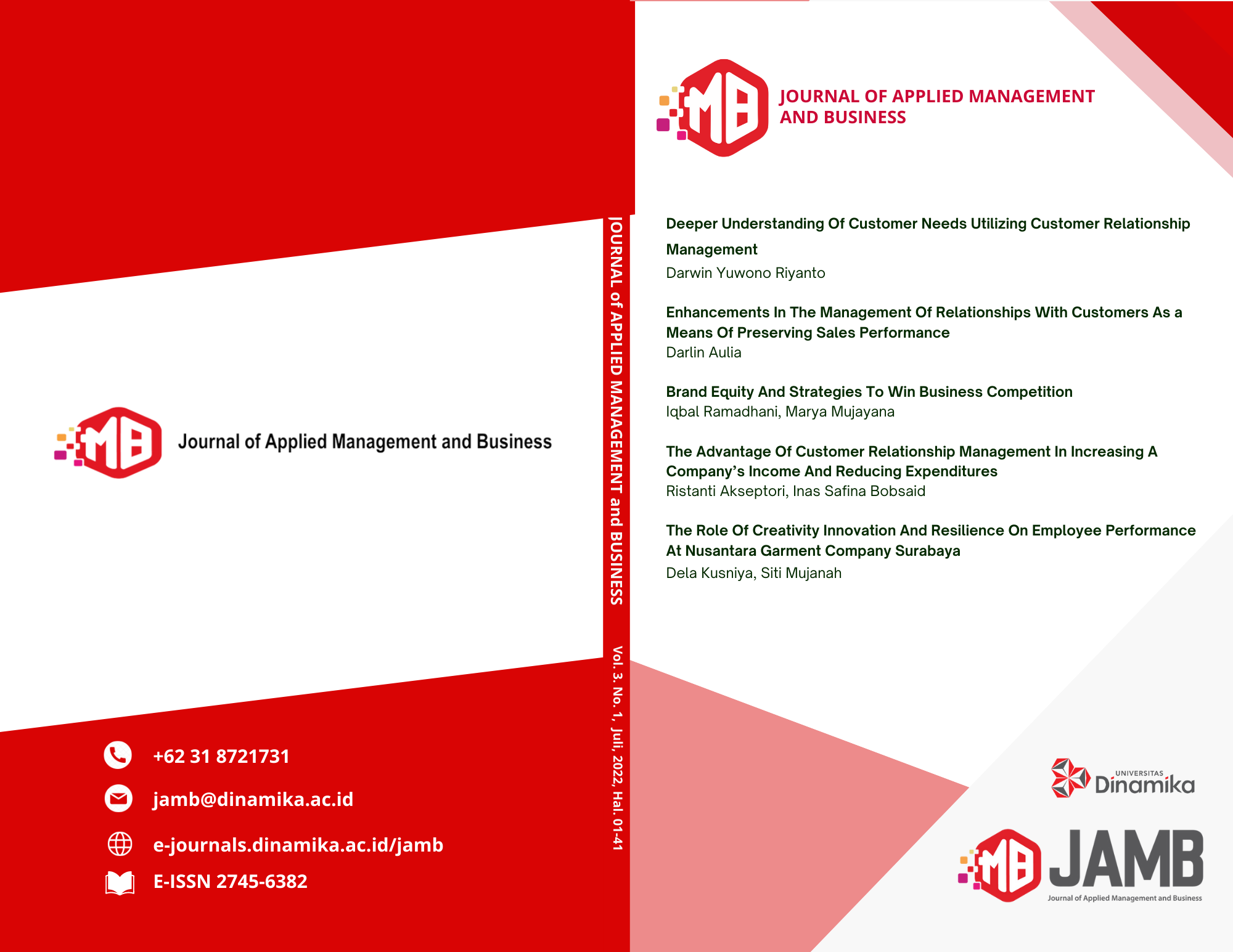 Downloads